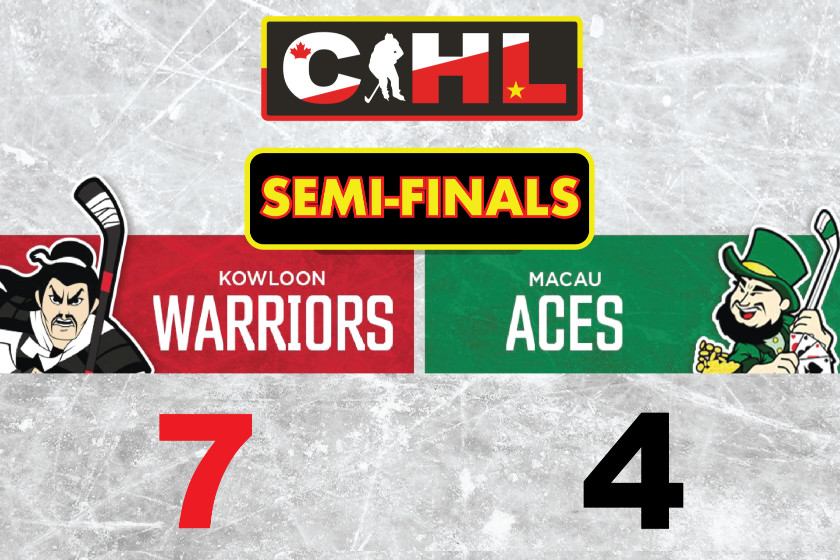 Warriors Advance to CIHL Finals with 7-4 Win over Aces
Thursday, 30 March 2023
The AsiaXpat Kowloon Warriors have advanced to the CIHL finals and will play the HKBN Hong Kong Tycoons in the battle for the ASIAXPAT cup.
Entering the 3rd period, the Aces trailed the Warriors by the count of 4-3 but 3 unanswered goals put the game out of reach for the Aces. Jesse Lussier scored late to close the gap to 7-4 but that was as close as they were going to get.
Rhett Wilcox led the way for the Warrior notching a hat-trick and the GWG. A good start and leading contender for the playoffs MVP.
The Tycoons and Warriors have both won 3 ASIAXPAT cups, only the South China Sharks have won more titles with 4.
This will be the second time that both teams have faced each other in the finals. The last time was back in 2014-15 when the Tycoons won for the first time with a 6-5 OT victory. Team General Manager Jonathan Szychta was the hero of the night when he scored at 1:06.
Don't miss out on the COOLEST GAME IN ASIA and come out to watch the CIHL ASIAXPAT cup finals this Saturday, April 1st.
GAME DETAILS:
Date - April 1st
Time - 9:00 pm
Location - Discovery Bay Ice Rink, Discovery Bay Plaza
Remember to find us on:
1. Facebook - CIHL League (submit a friend's request)
2. iPhone & Android App - 'CIHL' (pull down the screen a few seconds for updates)
For the latest scores, statistics, and game schedule.
1. Website -
www.CIHL.com