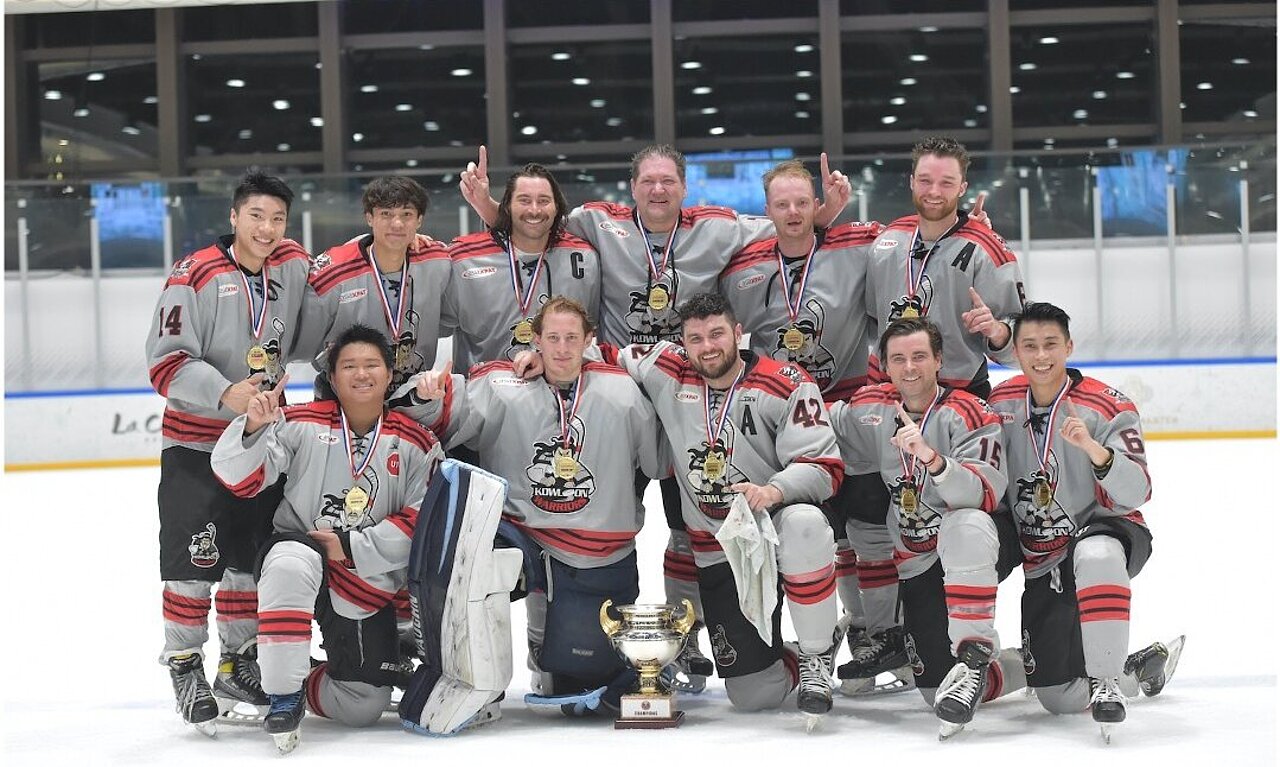 CIHL 2022-2023 CHAMPIONS – ASIAXPAT KOWLOON WARRIORS
Elite ice hockey league CIHL is the first full contact league in Hong Kong, covering the Southern China region. Teams represent Hong Kong, Kowloon, Macau and South China. The league is modeled after the popular British Columbia Hockey league (BCHL) in Canada with the following objectives:
Revive and expand interest in the sport of ice hockey in China
Expand on the growing popularity of ice hockey in Hong Kong
Provide a world class entertainment product
Establish a bonafide Chinese professional league over time
Develop Chinese hockey players to achieve competitiveness on a global basis
The league consists of 4 teams:

| | | | |
| --- | --- | --- | --- |
| Hong Kong Tycoons | Kowloon Warriors | Macau Aces | South China Sharks |

17 regular season game schedule + playoffs.
Games will be played at the NEW DB Ice Rink located in Discovery Bay Plaza.
Games are played on Saturday or a night designed by the league.
- 1st game at 7:30 pm
- 2nd game at 9:00 pm
The minimum age to play in the league is 16 however the league will grant exception on a case-by-case situation.
Game are played with full body contact.
3x15 minute full stop time periods played 5 on 5+1 goalie.
1x3 minute full stop time overtime period played 3 x 3+1 goalie
Ice clean between 2nd – 3rd periods of each game.
3 player shoot-out (playoffs only).
4 man referee system (2 Referees and 2 Linesmen).
Strict rules and suspensions will be enforced for hits from behind and hits that target the player's head.
No fighting allowed.
Rules follow international ice hockey standards with minor changes.
Tryouts for the 2021-2022 CIHL season will be held on Thursday, September 2nd from 10:00 - 11:00 pm at the new DB Ice Rink in Discovery Bay. All New players that have registered for the CIHL MUST attend the tryout.
The 11th annual CIHL draft will be held on Saturday, September 4th, 2021 (time/location TBD). All players, families and friends are welcome to attend the draft at no cost.

A player's full registration fee must be received by the CIHL by Friday, September 3rd.
A registration without full payment does not qualify you for the league or the draft.

Players not selected on draft night will be put into the league player pool (LPP) and eligible to play as spares.
Each team will draft between 12-15 players + 1 goalie (based on players eligible).
Teams will be managed by one general manager (GM).
Player trades are permitted during the regular season. The trade deadline for the 2021-22 season is February 28th, 2022.
In order to maintain the quality and integrity of the league, players that do not comply with the league rules and standards will be removed from the team.
League Commissioner

| | |
| --- | --- |
| Grant Phillips | |
| Phone: | +852 2892 7389 |
| Mobile: | +852 6692 6861 |
| Email: | grant@cihl.com |

Assistant Commissioner