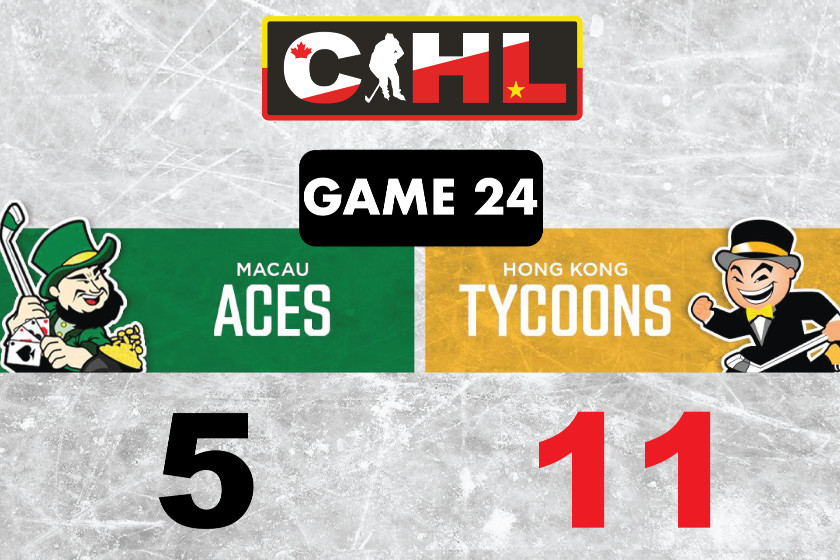 Tycoons Wrap Up CIHL Regular Season with 11-5 Thumping of Aces
Thursday, 23 March 2023
The HKBN wrapped up CIHL 2022-23 regular season with an 11-5 thumping of the Manulife Macau Aces. The Tycoons finished in first place with an 11-5 record for 22 points. AsiaXpat Kowloon Warriors came in 2nd place with 17 points (8-7-1) and the Aces in last place with 9 points (4-11-1).
Tycoons Rookie of the year and very possible MVP of the regular season Cole Poliziani finished a record-breaking season with 7 points (1G + 5A) on the night. Cole broke both the MOST GOALS in the season with 33 (previous record was 31 by Aces Whitley Olsen) and total points with 69 (previous record was 66 by Tycoons Matthew Gates)... congratulations on a fantastic season Cole.
Ben MacAskill, Jonathan Szychta and Julian Ikeda each had a hat trick... the first time 3 players from the same team had hat tricks... wow!
With another season in the record books - we now turn to the playoffs with features the Macau Aces taking on the Kowloon Warriors in a single-game semi-final match.
The semi-finals will be played on Wednesday, March 29th @ Discovery Bay Ice Rink at 8:15 pm... GOOD LUCK TO BOTH TEAMS!
Remember to find us on:
1. Facebook - CIHL League (submit a friend's request)
2. iPhone & Android App - 'CIHL' (pull down the screen a few seconds for updates)
For the latest scores, statistics, and game schedule.
1. Website -
www.CIHL.com