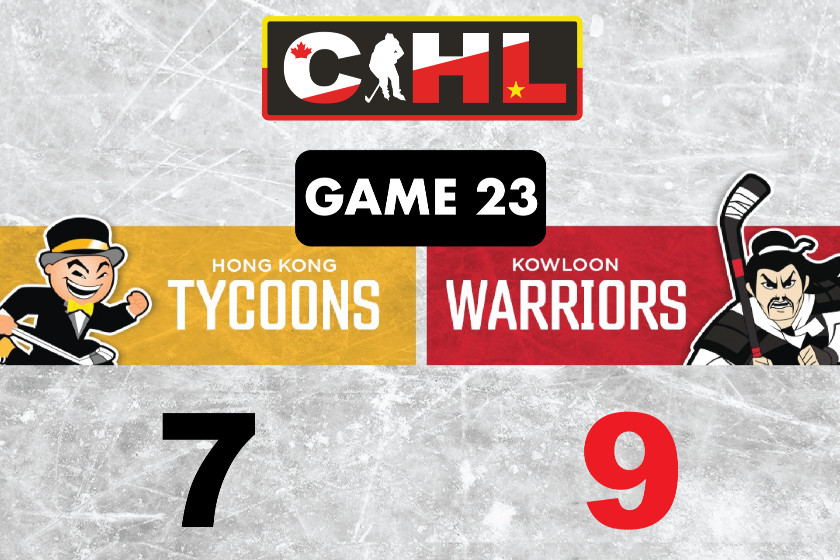 Warriors End Season With 9-7 Victory over Tycoons
Thursday, 16 March 2023
The AsiaXpat Kowloon Warriors ended their 2022-23 regular season with a 9-7 victory over the 1st-place HKBN Hong Kong Tycoons and now turn their focus to the semi-finals match-up against the Manulife Macau Aces on March 29th.
Francis Lam had his first 4-goal game in his CIHL career, his fourth goal of the game was his tenth of the season but more importantly - it was the GWG of the game. Jim Fanstone of the Tycoons went toe-to-toe with Francis by netting 4 of his own.
The game looked out of reach at the end of the second with the Warriors leading 8-2 but the Tycoons fought till the end and as they had the Warriors on the run.
Might this have been a preview of the CIHL Finals? Well, we will have to wait and see as the Warriors first have to get by the Aces in the semi-finals. What a finals it could be as both teams scored more than 100 goals during the regular season.
Remember to find us on:
1. Facebook - CIHL League (submit a friend's request)
2. iPhone & Android App - 'CIHL' (pull down the screen a few seconds for updates)
For the latest scores, statistics, and game schedule.
1. Website -
www.CIHL.com