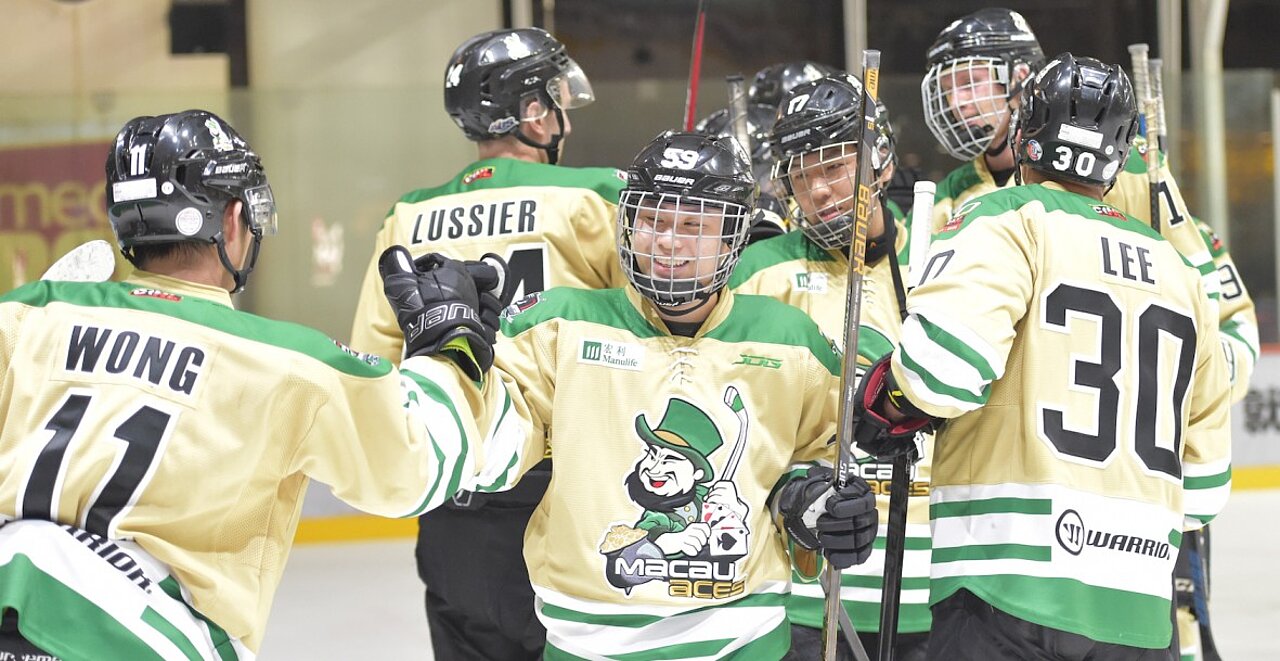 About the Macau Aces
Representing the neighbouring SAR, CIHL founding team the Macau Aces bring pure skill, a thirst for winning and an intuitive ability to read the competition. While a lucky pot of gold can never hurt, talent outweighs blind luck every time. Still, don't be surprised if a few lucky pucks bounce their way and the Aces take more than their fair share of the winnings.
Coming off a disappointing playoff exit, the Manulife Macau Aces will look to bounce back in the 2019-2020. With the league's top goaltender Liam Moorfield-Yee and strong team defence, the Aces are primed for a run at the Scotiabank Cup.

Manulife (International) Limited
Manulife Hong Kong has been a trusted name for more than 120 years. Since our operations started in Hong Kong in 1897, we have grown to become one of the top-tier providers of financial services, offering a diverse range of protection and wealth products and services to more than 2 million customers in Hong Kong and Macau. We look to introduce financial solutions that help people make their decisions easier and lives better.
Visit Manulife at
| NO. | NAME | BORN | POSITION | CATCHES | HEIGHT |
| --- | --- | --- | --- | --- | --- |
| 1 | Raymond Loo | Canada | Goalie | Left | 6' |
| 57 | Boyce Wong | Hong Kong SAR | Goalie | Left | 5'11" |
| NO. | NAME | BORN | POSITION | SHOOTS | HEIGHT |
| --- | --- | --- | --- | --- | --- |
| 4 | Tom Allen | Canada | Defence | Right | 6'3" |
| 7 | Ryan Lee | Hong Kong SAR | Defence | Right | 5'8" |
| 14 | Timothy Henglein | United States | Defence | Left | 6'3" |
| 20 | Alan Chan | Hong Kong SAR | Defence | Left | 6'0" |
| 21 | Issac Yip | Hong Kong SAR | Defence | Left | 5'10" |
| 22 | Eugene Lee | Hong Kong SAR | Defence | Left | 5'8" |
| 24 | Jesse Lussier | Canada | Defence | Right | 6'2" |
| NO. | NAME | BORN | POSITION | SHOOTS | HEIGHT |
| --- | --- | --- | --- | --- | --- |
| 3 | Whitney Olsen | United States | Forward | Left | 6'0" |
| 11 | Lokel Wong | Hong Kong SAR | Forward | Right | 5'7" |
| 12 | Stuart Chan | Canada | Forward | Right | 5'11" |
| 13 | Kosuke Ikeda | Japan | Forward | Right | 5'10" |
| 17 | Yosef Natour | Sweden | Forward | Left | 5'11" |
| 50 | Jordan So | Canada | Forward | Left | 5'11" |
| | |
| --- | --- |
| Team General Manager: | Whitney Olsen |
| Team Captain: | - |
| Assistant Captains: | Tom Allen, Whitney Olsen and Liam Moorfield-Yee |